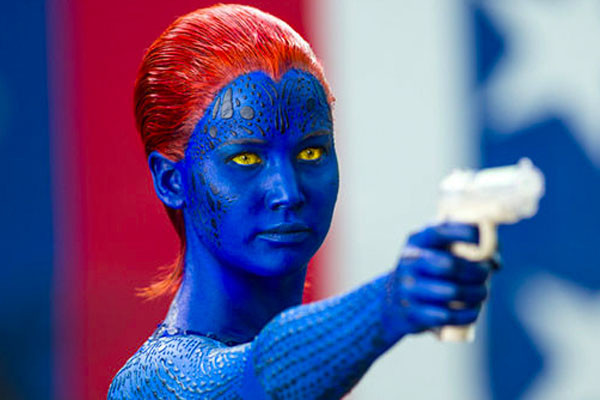 Fox
Before X-Men: Apocalypse, it sounded an awful lot like Jennifer Lawrence was done with the X-Men franchise. So assumed was that fact that it seemed inevitable that she'd be killed off by Oscar Isaac's big purple headed monster in the sequel.
But, clearly she wasn't, and she might not have painted herself blue for the last time.
Talking to Entertainment Weekly, the actress confirmed that Michael Fassbender and James McAvoy's current contracts with Fox are now at an end (as they signed up as a threesome), and that the studio will obviously need to get their negotiating hats on if they want more appearances from the trio.
"Fassbender and McAvoy and I were all talking. Like, ?Will you come back?? ?I dunno.? ?I?ll come back if you come back.? Fox should be terrified because the deal we made was like if one of us doesn?t come back, none of us are."
Surely something has to happen: they can't have an extended X-Men Universe without a Professor Xavier or a Magneto, and recasting would be a disservice to how well both actors have done in the roles so far.
So would Lawrence do it?
"I would love to come back. I love the fans and I love the character. But then you realize how important your year is, like how important three months out of your year is. I don?t know. I shouldn?t be that honest."
It's a strange thing for a working person to say – and a hell of a luxury – that working for a massive chunk of the year gets in the way of your life. Imagine trying that mentality with your boss.
Anyway, it's good news that she's at least up for talking about it, as she blossomed into the role for X-Men: Apocalypse and the new X-Men do need a ground leader until Cyclops steps up. It's just a shame we don't get to see villainous Mystique on this timeline any more, barring something dramatic.
What do you think? Would you like to see Lawrence back for more as Mystique? Share your reactions below in the comments thread.
---